Surround sound systems can completely change the dynamics of your music listening or movie/television watching experiences: immerse yourself in the sounds of great music, step into the movie and jump in fright with the actors, or laugh along during the funny times. Take your home entertainment systems to the next level with surround sound installation from HOZ TV! Our professionals have the knowledge and expertise to install a top-quality home speaker system in your house, providing quality performance and discreet appearance. For home theater speaker installation and surround sound installation of all types, call the experts at HOZ TV today!
Surround sound installation isn't necessarily just for one room: depending on your preferences and home speaker installation needs, the HOZ TV team can create a home theater experience in a single room or integrate speakers into several rooms for a whole house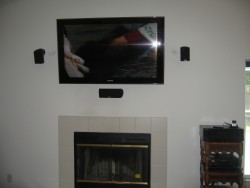 listening experience. When you call our professionals, you get both surround sound installation and design expertise, meaning we can help create the ideal system for your home and listening style. Taking into account room dimensions and speaker size, we can optimally locate your surround sound speakers for sound quality as well as aesthetics, completely hiding the wiring in the process. Whether your home speaker installation is confined to one room or encompasses the whole house, the HOZ TV team has the experience and knowledge needed to ensure you get the best quality workmanship and surround sound system appearance and performance. Call now for more information.
At HOZ TV, we have over a decade of experience in home theater electronics and installation. That means we have the expertise and skills to handle even the most challenging aspects of just about any home speaker installation. Our experts have what it takes to effectively design and put in all parts of your surround sound installation, including:
Speaker placement
Product integration
Audio/visual calibration
Wiring compatibility
So whether you're ready to upgrade to home theater or need a hand installing your surround sound equipment, HOZ TV has the expertise you need. Save yourself the hassle, headache, and mess of DIY surround sound installation: call the professionals at HOZ TV for correctly installed equipment, hidden cables, and the absolute best in home speaker installation. With our substantial two-year labor guarantee and manufacturers warranties, you can be confident that our experts will stand behind our workmanship–call now for your free estimate and get on the road to your new home surround sound system installation today!